Public Business Directory
Browse Alphabetically ABCDEFGHIJKLMNOPQRSTUVWXYZAll
Marlin Technologies
Marlin Technologies designs, engineers and delivers custom OEM electronic control solutions for nearly any severe duty application.
Contact: 101 Industrial Drive, Horicon, WI 53032 | Phone: 920-485-4463
Marshfield Medical Center - Beaver Dam
Wellness for life
We're here to improve your quality of life, to help you celebrate new arrivals and to honor your loved ones by helping them live with dignity and grace at the end of their lives. For all the late night fevers; for all the bumps and bruises you can't handle at home; for life-changing surgery and recovery, we want to be your resource for wellness.
Through our compassionate staff and convenient locations, we offer all the services your family needs to stay well, including primary and specialty care, obstetric and inpatient acute care, outpatient surgery and oncology services, rehabilitation, home care, hospice, long-term care, and even a day care for the kids. We're committed to improving rural health care, working tirelessly to improve our communities.
Mission
We enrich lives to create healthy communities through accessible, affordable, compassionate health care
Vision
We will innovate and define the future of health care for generations and will be the consumer's first choice for health care
Contact: 707 S. University Ave., Beaver Dam, WI 53916 | Phone: (920) 887-7181
Marshland Pharmacies, Inc.
Marshland Pharmacy prides themselves in providing products necessary for your personal health. Our pharmacists put extra effort into maintaining accurate prescription records while monitoring your drug interactions. Stop in today to check out our gift department, gift card mall, durable medical equipment, CBD products, and much more! Pharmacists who know, and know you!
Contact: 700 Washington St, Horicon, WI 53032 | Phone: (920) 485-3400
McCallum Feed & Supply and Pet Expo
Pet Food Store
Feed and Farm Supply
Established in 1965, McCallum Feed & Supply's family owned operation carries a wide variety of pet feed & supplies for all animals. They carry name brands you trust, including:
Kent Feeds
Diamond dog and cat
Nutro dog and cat
Fromm dog and cat
Pot belly pig
Dog and cat treats and toys
They also sell a large supply of seeds and feeds.
Servicing Agromatic, Jamesway and ValMetal equipment, they also rebuild silo unloaders and all farm equipment.
Selling healthy and beautiful Christmas trees in the season, you will not find a prettier tree or better price anywhere except on your own property….maybe.
Hours:
Monday to Friday ~ 8 am to 5 pm
Saturday ~ 8 am to 2 pm
Sunday ~ Closed
Contact: N6675 S. Main Street Rd., Horicon, WI 53032 | Phone: (920) 485-9746 | Fax: (920) 643-7063
Michelle Wanie Agency, Inc. American Family Insurance
We are excited to announce the opening of our new location at 602 Washington Street in Horicon which serves all local and surrounding communities. We offer a fresh and inviting atmosphere with great parking for our customers. We are proud to be recognized as an American Star Certified Agency providing the highest level of customer satisfaction. As we strive for excellence, our mission continues to be focused on the everyday needs of our clients since 2001 in the Horicon and Mayville area.
My fully licensed staff (Kelly Christian – Office Manager & Gail Remington – Customer Service Rep) and myself have almost 70 years of insurance industry experience combined to assist with all your needs – auto, home, life business, farm/ranch, recreational as well as many other products offered through our brokerage company, B&A Solutions. I also have a non-resident license in Illinois and Arizona.
OFFICE HOURS
Monday thru Friday 8am - 5pm
Evening and weekends by appointment.
365 days a year – 24 hour claim service provided at 1-800-692-6326.
We accept payments online, at our office, by phone,at Mayville Savings Bank and the customer service desk inside Piggly Wiggly, Mayville.
My dedicated team will provide stability, consistent business practices and more importantly, peace of mind by protecting your family and your dreams.
Kelly: [email protected]
Gail: [email protected]
Website: [email protected]
Email: [email protected]
Call us or stop by today!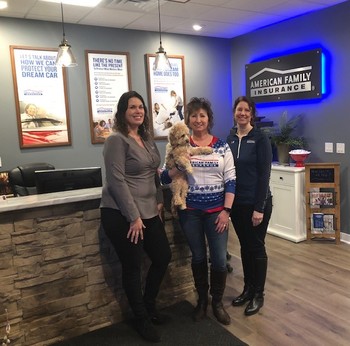 Contact: 602 Washington St, Horicon, WI 53032 | Phone: (920) 485-2110 | Fax: ((844) 360-0907
Modern Woodmen of American, Josh A. Muche
Joshua Muche, a Modern Woodmen representative in Horicon, serves members, their families, and residents in and around the Dodge County Area. A unique combination of business and voluntarism, the organization offers life insurance and annuities for family financial security as well as service programs and benefits for families and their communities.
Helping people secure their financial needs and still keeping today's needs in check.
HOURS OPEN:
Monday to Friday ~ 9 am to 5 pm
Or by Appointment
Contact: 310 E. Lake St., PO Box 116, Horicon, WI 53032 | Phone: (920) 485-0687 | Fax: (920) 485-0688